Highly regulated businesses – how do you broaden communication to streamline procedures?
Problem faced
The aerospace industry is very regulated, so everything performed has to follow a strict procedure. Boeing UK came to us to improve their internal communications starting with the many forms they are required to fill.

Every request, change, incident and action has to be documented in the applicable form, sent to the manager and formally approved (or rejected). That creates a mass of paper work that needs to be processed and it takes time for the information to be passed.
Our challenge was to conceive a system that allowed the company to communicate more efficiently and directly without delays. This concept was to be expanded to all the aspects of information passed within the company, giving controlled and secure access to any data anywhere. Starting with the internal forms, people had to be able to access them on the move (via mobile, iPhone, iPad or desktops).
A deeper problem was how to even introduce such a vast concept and test the communication and information channels and sources. The client had multiple enterprise systems for each type of information – including separate systems for production, travel, accidents and finance.
Solution developed
Our answer to the challenge was the concept of an Enterprise Open Connectivity Platform - flexible and capable integrating Enterprise systems at any time. The development could be carried in small test stages, or in parallel across multiple systems. This scale of the system offers great flexibility, but also brings time and cost reduction as well as budget flexibility.

The first step was a test system for forms communication, allowing mobile apps access for the UK users. System was received with great enthusiasm and further implementation on a larger scale across Europe and Asia is in development.
The end architecture presented below shows the data communication nodes permitted in the system as well as the integration between the various systems. The main integration is delivered by implementation of the Enterprise Service Bus module. The ESB will perform the centralised integration between various systems present in the Spirit AeroSystems Enterprise Layer.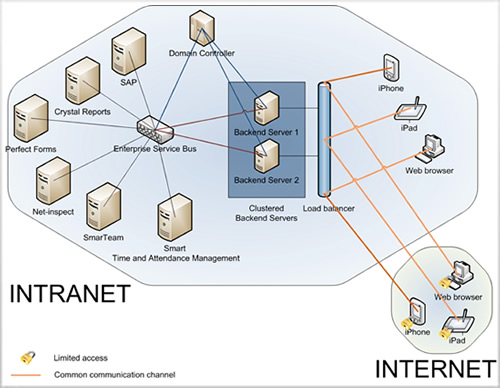 Enterprise Open Connectivity Platform - System Architecture
Cost reduction methods
Use of components of the shelf - The goal for construction is to use as much current infrastructure and software as possible, which reduces the cost of the end solution
Iterative development - Iteration-based implementation allows for step-by-step, optimal use of budget
Open source technologies - The system is constructed with many cost-free technologies that can be used even in the production environment
Common platform    - Once the communication platform is constructed, the cost of adding a new system into it is smaller than integrating it piece by piece with the rest of the IT environment
Technology benefits
Latest applied solutions - Based on a combination of current, popular solutions used in production environments needing little effort to implement
Extendable modular architecture    - New systems can be plugged in and new functionality added because modular architecture makes solution extendable
Iteration based implementation    - Allows for proper planning, sufficient testing periods and pilot runs plus scheduled roll-outs
Control over handling case groups - Handling different case groups should be done by adding them within separate releases. The criteria for choosing such groups should be if they all have similar business process domains or come from one external system
Future-proof - Functionality of currently used systems remains unaffected
ESB as integration channel - Adds ESB as integration channel - latest market standard for enterprise level
Easier integration process - After adding one interface to particular IT systems, all means of integration will be allowed thanks to adapter mechanisms plugged into ESB
Hardware, software, network and security
Existing infrastructure - System can be built next to existing infrastructure
Security standards - Conform to currently used security standards with support for role based access to functionality and data
Domain Controller - Architecture includes Domain Controller functionality that can be plugged into other systems as well
Internet access - Can have an internt access option with limited access to functionality
One access point - Only one additional place to allow access to and from other systems instead of letting all end devices do so
Failure resistant - In case of failure in a particular system, ESB queuing mechanisms allow data processing by that system to resume as soon as  it is available again
OS independence - Any OS with Java Virtual Machine can host it (i.e. Microsoft Windows Server 2003/ 2008)
End user benefits
Modern communication channels - Adds modern communication channels to currently used systems
Cross system data - Cross system data can be accessed for monitoring and reporting purposes and additional business logic
Data synchronisation mechanism - Assuming each country will in future have one form of solution,  is allowed by a data synchronisation mechanism enables a group perspective between them, with the option of adding central databases for global reporting purposes - for example in reports comparing financial results of branches all over the world